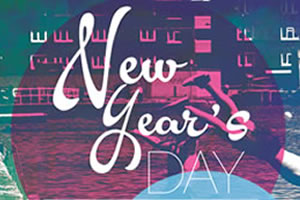 The 1st of January each year is New Years Day.  And of course it is another of our Big Days in the Australian calendar year.
New Years Day is the day after the hectic New Years Eve celebrations and so historically it has been a day of rest. More recently NYD has become another day of varying activities including big parties and celebrations similar to NYE but without the fireworks.
In Perth, New Years Day is celebrated as part of Perth Cup Day, where the city stops to celebrate their big horse racing day.  So it can become a choice, do I party hard on NYE or save something for NYD.  Over the last 15 years we've seen interest Australia wide in New Years Day increase.  The following graphic shows the interest in internet searches for New Years Day from 2004.

We can see in the run up to New Years Day celebrations that the interest in this Big Day really only kicks in during December.  We would suggest this is because the December Summer month is hectic with interest in Christmas and NYE amongst many Big Days!

There are lots of fabulous ideas for things to do on another one of the most fabulous Big Days of the year.  And if you are you looking for a place to recover after the biggest party of the year? Or are you looking to continue the party through New Year's Day?
Check out NewYearsDay.com.au