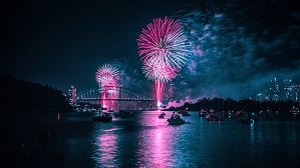 Fireworks are in the news with discussions taking place on drones over the traditional combustion fireworks. With NYE being a key celebration that traditionally has fireworks much discussion is taking place on who will use drones (called drone works) over traditional fireworks.
Drone light shows that can look a little like fireworks are called drone works. It's a very different visual effect and for those people that like their traditional combustion firework displays it can be a little bit of change. And sometimes people don't like change!
The Gold Coast Council is looking at using drone works for the 2022 Gold Coast NYE celebrations. Sydney and Melbourne have decided to use combustion fireworks for the midnight New Years Eve night time display. NewYearsEve.com.au has been following the news on these developments with confirmations by each of the respective Councils.
See New Years Eve Australia for details on the fireworks updates in the NYE celebration locations.