Grand Final Day is celebrated all around Australia. It's where people tune in or go along to watch and celebrate who will be premiers in the great codes of Australian Sports of AFL and NRL.  In Victoria, sports have been so recognised, that the government declared a public holiday on the Friday before the AFL Grand Final.
Melbourne is known as the sporting capital and on Grand Final Day weekend everyone gets the opportunity to spend time with family and friends to participate in the celebrations.  It could be a BBQ or heading away. Or you may head along to a venue or restaurant and enjoy food and drinks while tuning in to the great games.
In general, this look at Grand Final Day refers to the sporting codes of AFL and NRL where teams play off in a finals series after a season long home and away fixture. We can see from the following annual trends that searches for Grand Final Day have increased since the beginning of the search trends in 2004.  This follows the theory that AFL and NRL are more popular than ever.

The ultimate culmination of the AFL and NRL seasons is the Grand Final, where two teams play off for the Premiership flag for the year.   It's apparent that Grand Final Day is increasingly popular!  From the following it can be seen that in normal years interest in Grand Final Day begins around August each year.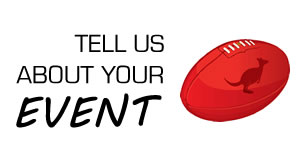 Grand Final Day is truly one of the Big Days of the Australian Year.   If you'd like to participate and see ideas of things to do and ways to celebrate with all the Grand Final Day events and venues around Australa, pleas do at GrandFinalDay.com.au
For those celebrations that are not yet listed you to can tell us about your event.  Come on grab a footy have a kick or throw a rugby ball.  Get into the fun of celebrating Grand Final Day!