Grand Final Day is celebrated all around Australia. It's where people tune in or go along to watch and celebrate who will be premiers in the great codes of Australian Sports of AFL and NRL.
In Victoria, sports have been so recognised, that the government declared a public holiday on the Friday before the AFL Grand Final.
Melbourne is known as the sporting capital and on this Grand Final weekend everyone gets the opportunity to spend time with family and friends to participate in the celebrations.  It could be a BBQ or heading away. Or you may head along to a venue or restaurant and enjoy food and drinks while tuning in to the great games.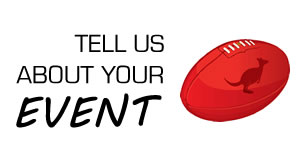 In general, this look at Grand Final Day refers to the sporting codes of AFL and NRL where teams play off in a finals series after a season long home and away fixture. The ultimate is the Grand Final where 2 teams play off for the Premiership flag for the year.
Check out all the Grand Final Day events and venues at GrandFinalDay.com.au