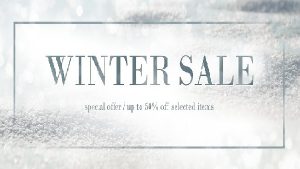 With August here Winter is in full swing.  During August many retailers are looking to finalise their Winter Sales.  For buyers it's a good time to try and pick up a bargain.
It's the new financial year too so sellers can be quite happy to cultivate a new relationship.  Look for Winters specials and if looking online even take our Winter Sales tips and ask the retailer for any promotion code.  15% is better in your pocket!
Make sure you checkout our links to the Winter Sales and all our seasonal sales at Big Days Sales.
And if you are a retailer that has seasonal sales tell us about your sales.