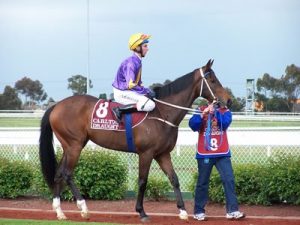 We are always on the lookout for ways to help wallets and purses.  So when a friend suggested we have a look at the Racing Victoria free competition that is Pick 7, we jumped at it.    The Pick 7 competition is run online.  It's pretty simple to enter.  Participants just have to select a horse in each of 7 races and hope they win that race.   Entries have to be all selected online before the first race begins.   The prize for selecting 7 winners is to share in up to $50k prize pool.   And the competition has been running more than once a week.  We've identified it running up to three times a week.
The prize pools can vary depending on the day of the week.  But the Saturday Pick 7 competitions have had a prize pool of $50k and the mid week Pick 7 competitions have had a prize pool of $20k.  The competition also provides a consolation prize even if no one correctly picks seven winners.   So in that the case the leading tipster will receive a share in a $5k or $2k consolation prize pool.
The Big Days Teams Tips are In
Over the last few months between a friend and myself we have been entering this free competition.  You don't have to be a horse racing enthusiast to enter.  You don't have to have any skill.   We have found there are options for making your selections which can help the novice.  There is a quick pick option whereby the selections are done randomly.  There is a favourites option whereby the favourite horse by betting and odds is selected for you.   We have found these options very helpful.   It only takes a few minutes each time to get your entry in!
To date after some ten or more rounds of our entries in this Free Competition we have not won anything.  However as the old saying goes you have to be in it to win it!  And somebody is winning $50k and $20k each week.   Well done to Racing Victoria!  Please see the link to the Racing Victoria Pick 7 Competition on the Big Days Money page.