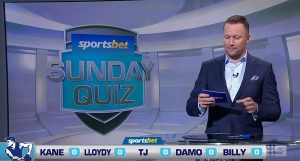 Each Sunday of the AFL season the comical characters of the panel from Nines Wide World of Sport get together and discuss the intricacies of that weeks games and other aspects of Football.  One of the flagship components of the show is Browny's Quiz.
Nathan Brown compere's a crazy quick quiz on all matters footy related while the celebrity panel represent members of the public for the weekly winning of $500.    You too can get involved.
Big Days for a Fun Quiz
The winner is the person represented by the panelist with the most points at the end of the quiz.  There are quite a few questions worth one point.  But watch out, the last question is usually worth multiple points, so one of the panelist could buzz in to answer and come from the clouds.   The result could be a Big Day for one lucky viewer entrant.  $500 is the advertised prize each week of the football season.
It's easy to enter via online.  Just see the Competition details on the Big Days Money page and good luck.